[UPDATE: 22.12.2016] Seems Twitter has changed how the lead generation cards work, so the info here might not be totally valid any more.
Do you want to use Twitter to grow your email list or get new leads for your business? There's a great way to pimp your profile with a CTA that enables people to start interacting with your brand with just one click.
As an example, see our Twitter profile below and you'll notice there's a "Let's get in touch" button at the bottom right corner: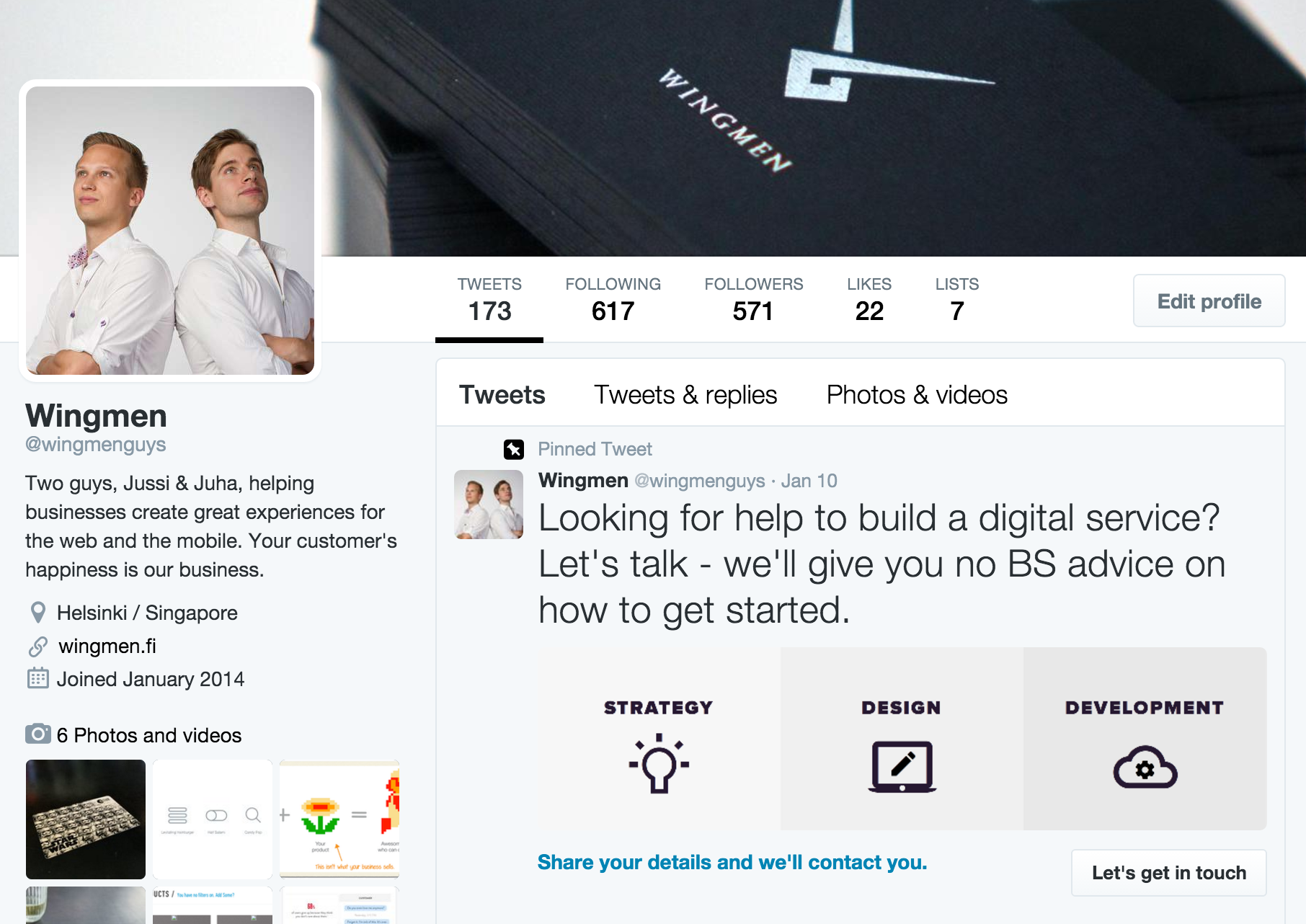 When someone clicks on the button, we will receive a notification on Slack with the contact information (name, email and Twitter handle) for the interested person. You could also be subscribing the person to your news letter or something more creative.
Here's how you can set it up for your self for free:
Head to https://business.twitter.com/ and sign up for the Twitter ads platform if you already have not.
Open https://ads.twitter.com/ and navigate starting from the top menu Creatives -> Cards -> Generate Lead Generation card.
Design your card with a nice image and CTA. When you're done, save the card and head back to Creatives -> Cards.
Copy the card URL under the card name. It should look something like this: https://cards.twitter.com/cards/xxxxxx/xxxx.
Next compose a tweet with the the card URL included and pin that beauty on your profile.
Profit?!!
Twitter has yet to build a system that notifies you when you get new leads trough your cards. You'll have to either manually check the leads for each card by downloading the results list or you can integrate the card with a third party service like Slack, Mailchimp or some CRM.
Slack integration was pretty easy to achieve using Zapier. For Mailchimp integration you'll find a detailed guide written by the guys them selves here.
ps. Now go click that button at https://twitter.com/wingmenguys! :)